Excellent quality spring made from high performance oil-tempered Japanese SWOC-V steel. This type of steel is generally used in military weaponry and in car engines. The M110 version of this spring was tested in an AEG for over 300,000 shots with zero shrinkage / performance loss.
XT is our own brand that mixes a number of existing products with some of our own in-house designed ones. We work directly with the factory, this is how we keep the prices low.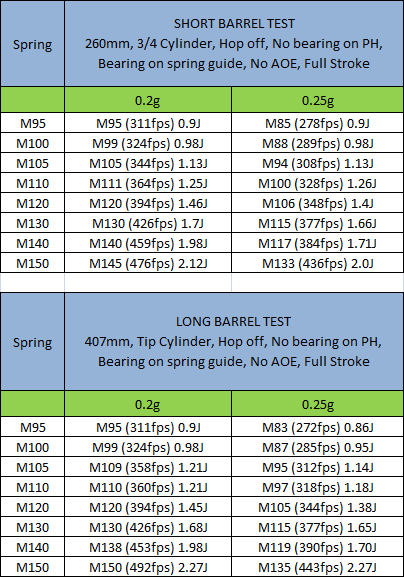 ​
* When choosing an appropriate spring you must match it to the cylinder type and length of the innner barrel. Every AEG is different, use the spring FPS rating only as a rough guide.

* Base test was an E&C gearbox shell, ZCI inner barrel, Retro Arms Hop Chamber and Maple Leaf MR 60 bucking.

* These springs have been rated with no AOE corrected, no trust bearing on the piston head but a thrust bearing on the spring guide. Please note on some builds I've noticed a 15fps increase just by having a trust bearing on the piston head.
Spring Rating: M110 / 360FPS
Length: 169mm
Outer Diameter: 14.65mm
Inner Diameter: 11.5mm
Wire Thickness: 1.4mm